Pakistan is blessed with individuals who strive hard to help those that are in need. Time and again we hear of extraordinary people and their immense efforts in making life easy for fellow human beings. Such is the case with Aqsa Ajmal who is a Pakistani student and is the first person to invent a sewing machine for the visually impaired.
Aqsa Ajmal has put in countless hours of hard work and determination in order to make the world a better place. Her invention will cater to the visually impaired and will serve as a means of earning for them. Such cases of empathy and hard work should be appreciated.
What was the inspiration?
Aqsa tells that her friend who had recently lost her eyesight was the inspiration behind this invention. She told a leading newspaper agency:
"It was very difficult for her [friend] to come to terms with how she couldn't pursue her studies anymore. Not to mention, special education and equipment such as braille in Pakistan are quite expensive. I wanted to make her feel valuable, and that inspired me to create a concept which would help generate employment opportunities for her [friend] and individuals liker her".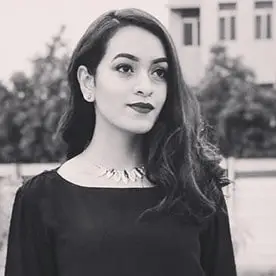 Aqsa has named her sewing machine 'Pursewit' for which she won the prestigious Lexus Design Award after she had pitched her idea. She says that she created a functional prototype for the design week and her aim is to attract those companies or people who can provide the necessary resources in order to make this invention easily available in the market.
She concluded by saying:
"This [Pursewit] could affect communities at large. Involvement at a general level may lead to increased awareness at a political level, spur financial support for the projects and help advancement".
We can all hope and pray that this innovative invention makes its way into the local markets and is easily available to everyone. No doubt this life changing device will prove to be a source of relief for the people.